Golf Opportunity in Pinehurst, NC
Let Us Book Your Next World Class Golf Experience in the Carolinas!
Luxury Rentals of Carolina is not affiliated with Pinehurst Resort or Pinehurst Golf Courses.
We not only offer 5-star properties, but deliver unforgettable golf experiences by providing our guests with premium golf packaging.
We've curated a collection of the best golf courses in Pinehurst, the Golf Capitol of the United States. Whether you're planning a buddies trip, corporate retreat, family or couples getaway, let our team tee you up for an unforgettable trip even if you are not staying at our properties. Browse our growing list of destinations and resort partners below, let us know what you like and we handle the rest.
Let us know below how many guests, preferred tee time and which Course you would like to play! We schedule your Tee Time so all you have to do is show up.
We cannot guarantee availability at every golf course with your requested dates and times. We will do our best to accommodate your needs. Golf courses book up quickly! The more time you allow us to book your tee-times, the more we can help facilitate your request.
We are preferred partners with almost every Golf Course in the Carolinas, and more! We offer discount golf rates for the following golf courses: 
In the golf rich state of North Carolina, Tobacco Road Golf Club is honored to be included in Golf Digest and Golf Magazine's Top 100 Greatest Public Courses in America. This landmark design from the late Mike Strantz incorporates sound golf design principles, strategic shot values and an old abandoned sand quarry to create arguably his greatest work. As of July of 2013, Tobacco Road rose to another plateau reaching number 50 in the world according to Golf Architecture Magazine as voted by 240 architects in 28 countries. Tobacco Road welcomes you!
For three generations, Peggy Kirk Bell and her family have been welcoming guests to Pine Needles Lodge and Golf Club. The course was designed by the legendary Donald Ross in 1927, and meticulously restored by Kyle Franz in 2017.  Pine Needles has hosted the 1996, 2001 and 2007 U.S. Women's Open Championships and will host the U.S. Women's Open for an unprecedented fourth time in 2022.
Pine Needles is also home to world-renowned instruction and practice facilities, all wrapped up with Southern hospitality.
A rarity among Donald Ross masterpieces, Mid Pines Golf Course remains exactly as the world renowned architect built it in 1921 and beautifully restored by Kyle Franz in 2013. Impeccably manicured to modern standards, Mid Pines is a classic gem, a rarity among Ross's masterpieces because it is exactly as he crafted it more than 88 years ago.  Even so, Mid Pines has played host to many national competitions including the 2002 USGA Senior Women's Amateur Championship. It has few forced carries, artificial or contrived holes.  It's been said that Mid Pines was never conceived as a daunting task to the finest players competing under championship conditions. Mid Pines was intended  simply as a fun course with adequate challenge for members and guests of a private club and resort.
The Mid South Club is one of the Carolinas' most attractive private residential golf communities. Five hundred forty five acres of longleaf pine forests, lakes and gently rolling hillsides provide a backdrop for a place of beauty and serenity. The Mid South Club Arnold Palmer signature golf course offers it's members a challenging yet enjoyable championship layout on which to test their skills. Mid South Club has 11 acres of bunkers. Don't forget your sand wedge for the 14th hole, which has plenty of sand traps and bunkers.
After 25 years, a renovation was made at The Mid South Club. This episode of the Traveling Golfer features the famed Mid-South property and the renovation that took place on the Arnold Palmer-designed golf course; a favorite of many golfers that visit the area.
By incorporating a classic Scottish design element, Talamore Resort has reimagined its Rees Jones course for the resort's 25th anniversary – and nothing could be finer down in Carolina.
Greens were restored to the original Rees Jones 1991 design, resulting in a 20 percent larger putting surface, and the addition of generous 60-inch Tift Eagle Bermuda green collars. The new Champion Bermuda putting surfaces will provide significantly better playing conditions than its bent grass predecessor and will put Talamore's greens on par with the other top courses in the area that have already made the switch to Bermuda greens including Pinehurst No. 2, No. 8, CCNC, Pine Needles, Mid Pines and Tobacco Road.
The "New Course" feels and is bigger with the fairways opened up, limited rough and the removal of excessive bunkering, with 75% of all bunkers eliminated. Improved cart access and the reshaping of certain areas to help cart flow will increase pace of play by at least 30 minutes per round. The "New Course" is "greener" literally and figuratively with less bunkers, wider landing areas, more bail out areas around greens and ultimately better turf conditions.
Quite simply the "New Course" at Talamore gets kudos and a green thumbs up from every angle.
Pinewild - Holly
Golf Course
A special signature design by golf's legendary world traveler, Gary Player, the Holly course is the perfect compliment to the Magnolia. The Holly features fewer bunkers, more water and smaller greens. Vast areas of longleaf pines were left untouched, and the course features numerous natural waste bunkers.  The design utilizes the property's many lakes, ponds and streams that wind through numerous wooded areas throughout the course. Multiple tees present a variety of challenges, but the course is definitely playable for golfers of all skill levels.
Pinewild - Magnolia
Golf Course
Originally designed by Gene Hamm, the 18-Hole, par 72 Magnolia Course opened to rave reviews in 1989, and within two months was ranked as one of the top 50 courses in the entire southeastern United States by Golf Week. The Magnolia has seen a complete multi-million dollar redesign, to include new greens complexes with Crenshaw Bent Grass, bunkers and cart paths. The result is a truly fantastic lay-out with emphasis on risk-reward golf.
Legendary golf course architect Donald Ross carved 18 of perhaps the most rewarding golf holes in the Sandhills region. A true shotmaker's golf course, Ross gives players options. At 6268 yards, Southern Pines does not measure up to today's length of courses, but it makes up for it through a variety of shots from the tee and even more challenges into the greens. The result continues to prove the course's notoriety as the most entertaining 18 holes of golf in the area. A throwback to days gone by, where bump and run shots were the norm and tee shots demanded precision over length. One trip around this Ross gem will leave you wanting more. This is how golf should be played.
Longleaf Golf & Family Club is an 18-hole Dan Maples designed course that offers every golfer an exceptional experience. Located off historic Midland Road in Southern Pines, Longleaf Golf & Family Club has been called the 'most playable course in the Sandhills' by Ron Witten of Golf Digest.
Built on the site of one of the Village of Pinehurst's former horse training estates, Longleaf shines with Dan's love of tradition. Many of the original features — the white fences, rail post and hedgerows — have been carefully retained as a tribute to the original site.
Longleaf is also home to the U.S. Kids Golf Academy.
Regarded by many as their favorite course in the the Village of Pinehurst area, the newly restored Hyland Golf Club (formerly Hyland Hills Golf Club) offers the highest elevations, tall pines, sparkling blue water and immaculate conditions. Under new ownership, Hyland Golf Club features brand new greens, manicured conditions and a new outlook toward providing the best customer service and experience in the Sandhills. Designed by Carolinas Golf Hall of Fame Member Tom Jackson, Hyland Golf Club offers a Sandhills golf experience that takes you back to a time where every shot in your bag was tested. You are invited to enjoy golf as its inventors intended.
Legacy Golf Links is proud to be one of only three courses in the Pinehurst, Southern Pines, Aberdeen area which has played host to a USGA National Championship. This Jack Nicklaus II design is a "must play" when visiting the Sandhills. Village of Pinehurst Area NGCOA Chapter Golf Course of the Year 2014.
The New Deercroft Golf Club is under new ownership. Deercroft is a Semi-Private golf club located 18 miles south of historic village of Pinehurst. It is carved from magnificent pine forests, with a 70+ acre lake on property. Deercroft offers one of the most scenic and challenging tests in the North Carolina Sandhills. Golf Digest has described Deercroft as the "Best Kept Secret in the Pinehurst area".
Beacon Ridge
Golf & Country Club
This classic layout provides a traditional Village of Pinehurst area challenge to golfers of every ability. Whether you live nearby, are on business or planning your next golf vacation, if you truly love traditional golf, visit Beacon Ridge, a uniquely satisfying golf experience.
Located 10 miles from the Village of Pinehurst, 7 Lakes is the most exciting new experience in the Sandhills area. Designed in 1976 by Peter Tufts III, godson of Donald Ross, 7 Lakes has a history and a heritage of excellence in course design. This classic design foundation paired with the natural beauty of North Carolina, delivers a spectacular golf course you won't want to miss. Your round of golf will include Lunch, and a Draft Beer! No built in fees, just our normal rate presented to you at an added value.
7 Lakes Golf Club is the most exciting all-inclusive golf experience in the Sandhills area. Local golfers can become a part of our free-to-join Loyalty Club, and visiting golfers who purchase through any golf package also receive All-Inclusive Golf benefits. Whether you live just around the corner or many miles away, if your getaway is for a few hours or several days, we want you to enjoy the golfing experience you deserve. Amateurs & Pros alike will attest 7 Lakes Golf Club should be on your radar for any excursion to the Pinehurst Area.
Whispering Pines
Golf Club
The Pines course (formerly the East) and its length, combined with the subtle terrain changes, is a true "inland links" course. The generous fairways, large renovated Champion Bermuda Greens (2016) and varied teeing areas give golfers of all skill levels fair challenges throughout the course. From the back tees that play 7094 yards to the 5012 yard Senior Ladies tees, the Pines course will make you hit every club in your bag with an opportunity to enjoy your round.
The Country Club of Whispering Pines course involves using the open, hardpan rough, sparsely covered with the native pine straw and "love grass", to create the elements that appealed to the late, great Donald Ross.
Foxfire
Resort & Golf Club
Considered to be the most challenging, the Foxfire Course covers hilly terrain with several doglegs cut through towering pines. Shot making is a premium on this well bunkered layout with characteristic elevated greens. Heavily guarded with deep bunkers, golfers find it important to position the ball on the proper side of the fairway to get the best approach angle to these slightly smaller greens. In the best condition it has been in over 10 years, the course provides all level of golfers to a playable challenge. If you played this course several years ago, it is time to see it again, we think you will be pleasantly surprised.
Carolina Trace
Country Club
One of the best kept secrets is out and Carolina Trace Country Club is honored to be one of the top private golf courses in the Raleigh triangle area. Between Raleigh and Pinehurst, Carolina Trace is home to two world class championship golf courses both designed by legendary architect Robert Trent Jones Sr. The Lake Course is situated among our 318 acre lake, offering captivating views throughout the round. The elevation changes on our scenic par 3s are like none in the area. 
Where Legends Are Made and The Brave Are Rewarded. Rated 4.5 Stars 2008-2009 & ranked the 7th Hardest Course in America by Golf Digest. Are you ready to experience the most breath-taking, awe-inspiring golf you've ever played? Mike Strantz, the designer of such greats as Tobacco Road, Caledonia, True Blue, Royal New Kent and Stonehouse, added yet another masterpiece to his collection with the creation of Tot Hill Farm Golf Club in Asheboro, NC. Whether you live in the heart of North Carolina, traveling to the famed Pinehurst area for your next golf trip, or simply passing through to another southern golf destination, you will want to schedule a round at the 7th Toughest Course in America as rated by Golf Digest in 2007. It's a golf experience like no other. Theres Only One. Only One This Legendary.
Opened in 1967 in the Sandhills region of North Carolina, Quail Ridge Golf Course was designed by Ellis Maples. The course is a short drive from Pinehurst, as well as the Raleigh-Durham-Chapel Hill Triangle area. It reopened in October 2017 after major renovations (the first such renovations since the course originally opened in 1967). We have NEW Champion Bermuda Greens, NEW TifTuf Bermuda Fairways, New Sand in the Bunkers and rolling hills.
Laid out in the rolling land of the sandhills, well-bunkered bentgrass greens give all levels of golfers a challenge. Championship (6875 yards, 73.6 rating, 129 slope); Middle (6295 yards, 70.6 rating, 124 slope); Forward (5562 yards, 67.2 rating, 118 slope). 18 holes, par 72. clubhouse, rstrnt./lounge, range, putt. green, chip. green, pro shop, rentals, school. Open year-round.
Duke University
Golf Club
Experience Award-Winning Golf at the Duke University Golf Club.
Enjoy a fun and challenging day with friends, family or colleagues on one Durham's most celebrated golf courses. The beautiful 18-hole championship Duke University Golf Club opened in 1957 and is a Robert Trent Jones, Sr.-designed course. Redesigned by Jones' son Rees in 1994, the Duke University Golf Club was the site of the 2001 NCAA Men's Golf Championship, and is considered one of the top ten golf courses in North Carolina. The course has also received top rankings from Golf Digest, GolfWeek, Golf Magazine and the Zagat Survey, and was recently voted as the best public course in the Triangle by the Triangle Business Journal.
Lonnie Poole
NC State Golf Course
The Lonnie Poole Golf Course is an Arnold Palmer Signature Course designed by Arnold Palmer and the design team at Arnold Palmer Design Company (including Erik Larsen and Brandon Johnson, both NC State graduates). This 18-hole course is open to students and the public and is home to our Varsity Women's and Men's Golf Teams. The course includes a research center and a clubhouse.
The Carol Johnson Poole Clubhouse is a mixed-use building that includes classrooms for professional golf management and turfgrass management students, as well as a restaurant, bar and fully stocked pro shop for visitors to the course.
With breathtaking views of the Raleigh skyline and the world-renowned Centennial Campus, the course has become a favorite in the golf community.
Let Us Know What You Want
We Handle The Rest
Availability 
We cannot guarantee availability at every golf course with your requested dates and times. We will do our best to accommodate your needs. Golf courses book up quickly! The more time you allow us to book your tee-times, the more we can help facilitate your request. 
Rates 
Each golf course has their own seasonal rates. We work with a wide range of golf courses and guarantee the best prices! We will e-mail you a quote / invoice for the requested golf courses. 
Deposit / Payment 
To reserve your requested tee-times, each golfer must pay a $50 deposit to lock-in the dates and rates. You can either pay the entire invoice at once or pay overtime as you near your arrival. 
All payments are due in full 30 days prior to your arrival date. The package may be cancelled due to lack of payment if within 30 days of arrival the full payment has not been received. 
CANCELLATION / ITINERARY CHANGES POLICY 
CHANGES: All changes to your golf itinerary must be made through Pinehurst Luxury Rentals during normal business hours and by the group leader only. 
RAIN-OUT: Course policy is that if the course is open there are no refunds given by our company. If the course is open, you are expected to play. If you do not wish to play, you are only entitled to a rain check if the course is willing to issue one. If the course is closed, then the course will either issue rain checks to you directly at the course or notify Pinehurst Luxury Rentals that they will not be billing us for the group's golf fees. If the latter is the case then all fees paid to Pinehurst Luxury Rentals for that round will be refunded to the group. Method of refund will be coordinated by the Packager and the Group Leader. If the group or an individual is a no-show/no-call, the course will not issue you rain checks after your scheduled day-of-play. Rain checks cannot be issued after groups' departure. 
CANCELLATIONS: 
Golf: 
Booking date – 31 days prior to first round, $50 per person cancellation fee 
30 – 15 days prior to first round, $200 per person cancellation fee 
14 days prior to first round, no refunds can be given 
This applies to cancellation an individual from a tee time or cancellation the entire tee time. 
Total Quoted Price (USD) 
US Teen, US Kids, and 2-week reservations: 
30 – 15 days prior to arrival, you will receive half your money back 
14 days prior to arrival, no refunds can be given 
All payments are due in full 30 days prior to your arrival date. The package may be cancelled due to lack of payment if within 30 days of arrival the full payment has not been received.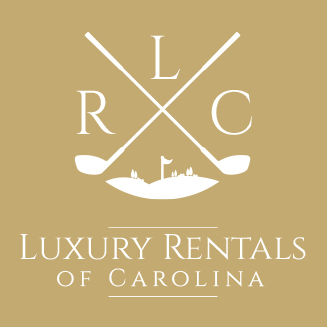 Luxury Rentals of Carolina is the new face of short-term luxury accommodations. We, combined with our carefully vetted collection of properties, provide perfect vacation homes for families, organizations and friends to come together and create unforgettable memories.
90 Cochran Castle Cir. Pinehurst, NC 28374
Luxury Rentals of Carolina is not affiliated with Pinehurst Resort or Pinehurst Golf Courses.
Copyright © 2022 Luxury Rentals of Carolina, LLC. All rights reserved. | Sitemap